While days may be blurring during these times, it is key to remember some of the important holidays. One of those holidays is Mother's Day and it is fast approaching (May 10th). While traditionally this is a holiday to celebrate with your human kids, we think dog moms should be celebrated too. After all, raising a pup is no small task. 
Here are five ways to celebrate being a dog mom with your fur-baby. 
1. Mother's Day Brunch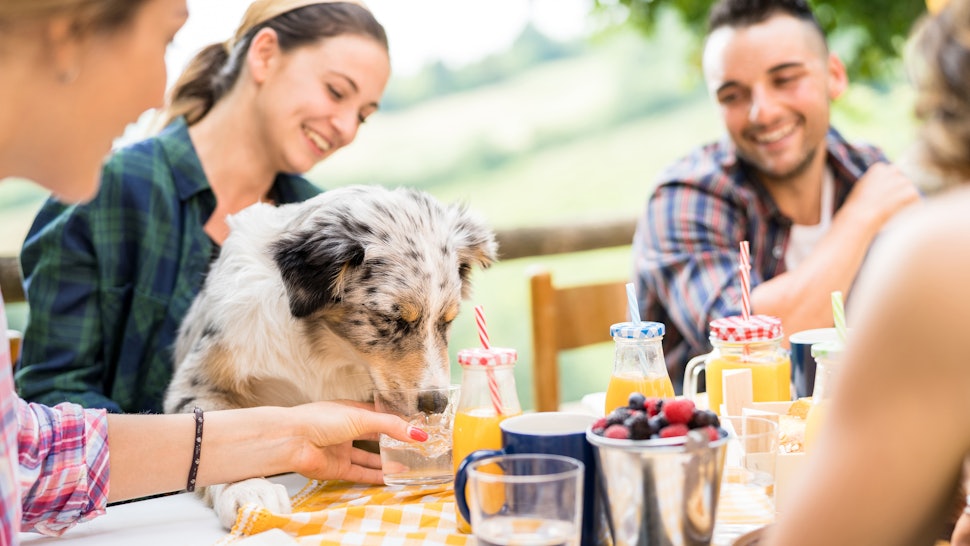 Picture Courtesy: Bustle.com 
Generally, we would have suggested heading out to a dog-friendly restaurant to sip on your favorite brunch beverage, but since things are on lockdown right now, have your own brunch party at home. 
Decide on a theme for the brunch; garden party? formal affair? backyard picnic? Whatever you are in the mood more. You can order in food from a local restaurant or cook up something of your own. Don't forget the treats for your pups! Dress up for the event and don't forget a bow or bandana for your pup too. Enjoy the afternoon by spending some quality time with your dog. 
2. Photo Shoot Fun!
Why not spend the day capturing some great memories with your furry friend. Set up a tripod, attach your phone and click away! If you want to jazz it up a little bit, put together a fun backdrop using a designed table cloth or bed sheet and add some props from around the house. 
Tip: If your dog is like Simba and won't sit still for a photo, you could keep a video rolling while you play around with your pup. Later, you can take screenshots from the video to capture the perfect pose. 
Simba is not into this as much as I was
3. Spend Time with Nature
If you are more of the adventurous type, go out and explore a hiking trail with your dog. Spring is bringing in some great weather and the fresh air won't hurt either. Check out some local parks in the area but don't forget to stay socially distant from others. 
4. Spa time
Create your own spa experience at home. Put on your finest robe, light some candles, play soothing music, and grab a face mask, new nail paint, and a glass of wine. Spa time is not just for you, give your pup a facial too. More details on how to give your dog a blueberry facial can be found here. 
Picture Courtesy: Wag Walking
5. Doga - Yoga with Dogs
Try incorporating your pup in some of those yoga stretches. There are tons of videos and instructions on poses to do with your dog. Remember to be careful and don't force your pup into stretches. Let them lead the way. It may turn out to be a great workout, or you may get a hilarious home video :) 
So here you have it. Make this Mother's Day special for you and your pup. Tell us in the comments below how you celebrated Mother's Day.